Before you decide to visit Dubai, it is wise to have some information on what currency is used in the country, how can it be exchanged and where can it be obtained.
What is the currency in Dubai?
The name of the official currency in Dubai and the United Arab Emirates is the Arab Emirate Dirham (shortly called Dirham), and it is abbreviated as AED, Dhs or Dh.
One dirham is divided into 100 fils.
The most common coins in circulation are silver in color, and the denominations are 1 dirham, 50 fils (hexagonal coin) and 25 fils (small silver coin).
The notes' denominations are: 5, 10, 20, 50, 100, 200, 500 and 1000 dirham and each has different color.
The notes are all marked in both language Arabic and English while the coins' values are shown only in Arabic.
The currency in Abu Dhabi is also called Dirham and does not differ from the currency of dubai in anyway because they are two cities of the same country.
Although the foreign currencies (like US dollar or Euro) and credit or debit cards are accepted almost everywhere throughout the country, it is always better to keep some local currency to cover small purchases, to pay the taxi fares, buy in smaller shops or for tipping in restaurants and hotels.
When travelling to the UAE, please note that the maximum amount of carrying money to or out of the country is AED 100.000 (or the equivalent in foreign currency) without any restrictions, but anything above this must be declared at customs.
In case you decide not to carry too much cash in hand, make sure that your credit or debit card is compatible with the machines in the country.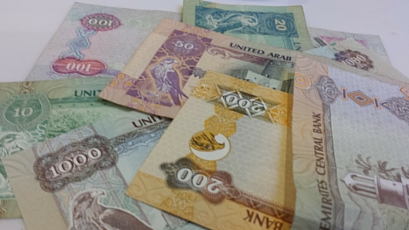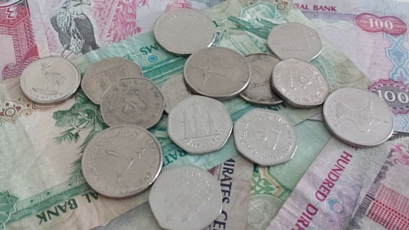 About exchange rates
While other foreign currencies experience daily fluctuations, the US dollar exchange rate is fixed to the UAE dirham by the Central Bank of the UAE in the value of 3.675 (means USD 1 = AED 3.675 and AED 1 = USD 0.272).
Exchange companies charge only minimal fee for the exchange of the US dollars, and this fee is built into their buy/sell rate, which means that you can buy 3.65 dirhams for each dollar exchanged while leaving the country you can sell it at a rate of 3.68.
Other important exchange rates are the following (updated on April 20, 2016):
Code                  Currency Name                    Rate (AED)
USD                    US Dollar                                 3.675
EUR                     Euro                                         4.174
GBP                     Sterling Pound                       5.283
SGD                     Singapore Dollar                   2.743
AUD                     Australian Dollar                   2.869
CAD                     Canadian Dollar                     2.896
INR                       Indian Rupee                         0.056
SAR                      Saudi Riyal                              0.979
Exchange companies
There are numerous of money exchanges operating in Dubai, and they can be found almost all over the city including shopping centers and airports. They are generally competitive, accurate and reliable, and they also have fast service.
The official money exchanges offer the best exchange rates throughout the city since they have only a minimal fee for their service. Almost all the major currencies are available in exchange companies and banks due to the number of nationalities living in the UAE or visiting the country.
Most of these companies open in the early morning and close in the late evening, some of them operate 24 hours daily (for example at the airport).
Some exchanges with some of their locations:
Al Ansari Exchange
Dubai International Airport
The Dubai Mall
Dubai Marina Mall
Souk Madinat Jumeira
Festival City
IBN Battuta Mall
DragonMart
UAE Exchange
Mall of the Emirates
Mercato Shopping Mall
City Centre Deira
DragonMart
The Dubai Mall
Dubai International Airport
Al Rostamani International Exchange
Dubai International Airport
IBN Battuta Mall
Mall of the Emirates
Al Khaleej Center
Dubai World Trade Center
The exchange rates given by banks and exchange companies may not always be favorable since the sell/buy rates vary according to the company and according to the location as well.
When you land in Dubai and have no money in hand, please note that airports have the most costly exchange rates not only in the United Arab Emirates but all over the world, so it is wise to exchange only the minimum amount of currency that you might require from the airport till you find the nearest bank or money exchange (for example taxi fares).
Hotels are also known for their high rates, so it is recommended to avoid buying local currency at your accommodation as well.
Banks offer more competitive rates than hotels or airports while exchange houses have the best offers in the city, and they can be found in any shopping center.
However there are many places where foreign currency can be changed, and some of them can be familiar to you (like the Western Union), it is always good to compare their rates before exchanging money because you might find better rates in smaller local companies.
There are plenty of automated teller machines (ATM) available in Dubai and they can be found  inside and outside banks as well as many other public places , such as shopping centers, supermarkets, hotels, petrol stations and even at metro stations.
Most of these cash machines provide their information and instructions in two languages: Arabic and English.
The size of the denominations given by the machines depends on the withdrawn amount.
You are most likely to get larger denominations (200, 500 or even 1000) while taking out a significant amount, and smaller denominations while withdrawing a smaller amount.
ATMs in the country accept local and foreign credit and debit cards as well including Visa, MasterCard, Union Pay, Maestro, Switch and Cirrus.
The accepted cards are illustrated on most of the machines themselves. It is always safe to carry a backup card in case your card gets lost, or the computer can't read it.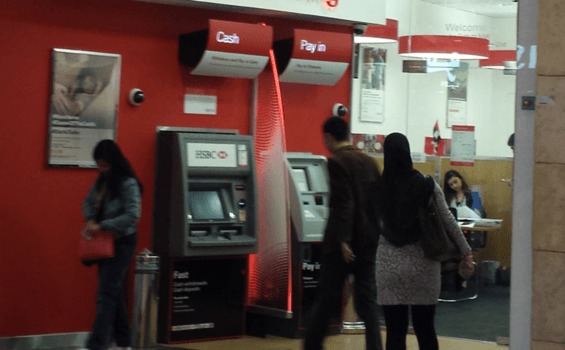 Credit and debit cards
Most of the ATMs, hotels, supermarkets, restaurants, petrol stations and stores accept the most commonly used cards like Visa, MasterCard or American Express.
Don't be scared of using your cards because withdrawing cash or paying by cards are absolutely comfortable and safe in the city since the Government of Dubai is very strict on any card fraud or cyber crime.
In case you lose your card here are some useful numbers:
Visa: 04 223 6888
MasterCard: 04 332 2956
American Express: 04 336 5000
Citibank: 800 4000
Diner's Club: 04 349 8200