Swimming has numerous health benefits, and there are several venues offering swimming classes in Dubai for babies, kids and adults. Few places offer ladies only swim classes, and we have listed them below for your convenience along with the prices (per class) and other important information.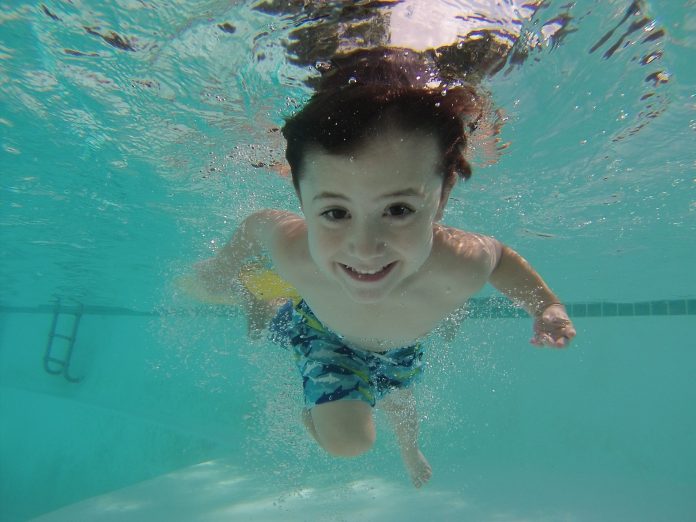 Swimming Classes in Dubai
Absolute Swimming Academy

This academy was founded in the year 2011 and offers many different training programs.
They services are open for all age groups, and they even have classes for kids as young six months old.
The coaches focus on the fundamentals of the sport in accordance with the British National Plan for Teaching Swimming (NPTS). Their coaches are from Britain, Germany and South Africa and all the venues at which they train contain starting blocks, lane ropes, and backstroke flags.
They offer after school programs at:
Dubai American Academy
Cambridge International School
Latifa School for Girls
Oaktree Primary School
Ontario Canadian International School
Location: Al Barsha, Al Garhoud, Nad Al Sheba, Al Quoz, Mirdif
Fees: NA
Tel: +97142959524
Official Website
Al Nasr Leisure land
Swimming is one of the many activities available at Al Nasr Leisure Land and the venue has one of the largest swimming pools in the UAE with the artificial wave function. They offer special swimming classes for schools and individuals. They also have a fitness center, bowling alley, tennis courts, squash and Ice skating.
Fees: AED 35 and AED 50.
Tel: 04 3371234
Official Website
BabySplash Dubai
As you may have already guessed, Baby Splash offers swimming classes for kids and various venues in Dubai. All their classes are focused on creating a fun learning environment so that kids can develop a life-long love towards swimming. BabySplash classes have been in Dubai for more than a decade and have trained over 4000 babies.
Their classes last 11 weeks and fees range between AED 980 to AED 1090; they do offer discounts, however, to see if you are eligible contact them directly.
Fees: AED 90 to AED 100
Locations: Meadows Club, Dubai Ladies Club, Al Manzel Old Town, Mirdif City Centre.
Tel: NA
Email: helen@babysplashdubai.com
Dubai Ladies Club
Apart from being known for its safety and world-leading facilities, this venue offers swimming to its members and non-members. They have an infinity pool that overlooks the beautiful Arabian Gulf. Prices for group kids classes at set at AED 85 for members and AED 100 for non-members. Group swimming classes for adults are priced at AED 125 for members and AED 150 for non-members. Each session lasts 45 minutes.
Fees: AED 85 to AED 150
Location: Jumeirah Road, Jumeirah 2
Tel: 043499922
Official Website
M and S Sports
M and S sports offer swimming classes in various venues around the city.
They offer kids, adults and ladies only swimming classes in Dubai. All swimmers are put through an assessment test to understand their level and ensure training is offered accordingly.
The young kids are graded using a progressive star system and are encouraged to work towards becoming a Gold Star Swimmer.
Each session cost AED 85, excluding annual registration fees and discounts are offered for siblings.
Fees: AED 80 to AED 100
Location: Al Manara, Al Safa, Arabian Ranches, Meydan South, Dubailand, Al Quoz 1.
Official Website
High Performance Swimming Club (HPSC)
HPSC is another provider of swimming classes in Dubai and offers classes for all age groups, some of their swimmers have also achieved a lot of success, and their coaches are qualified by ASA, ASCA, and American Red Cross.
They also focus on mental and dry side training as well. Their ladies only swim classes are held at Dubai Ladies Club.
Their adult classes held at various venues cost AED 250 for private lessons and AED 125 for group lessons. Each class is 60 minutes.
Fees: AED 125 to AED 250
Location: Hamdan Sports Complex, The Gardens, The Greens, Jumeirah Village Triangle, Jumeirah Road.
Official Website
Fitness First
As one of the leading fitness centers in the middle-east, Fitness First also offers swimming classes in Dubai at its various locations. They have three programs for different age groups.
The junior program is actually taught by Baby Splash Dubai, and it is divided into three stages.
Stage one involves, water confidence, water safely, floating and breathing.
While stage 2 covers some more skills such as Front crawl and backstroke.
Stage 3 covers butterfly, backstroke, breaststroke and Front crawl and will also cover the introductions to competitive swimming.
The other two programs offered are the Teen and Adult Program.
Fees: AED 60 to AED 75 (FF members and Non-members)
Location: Selected Venues Only
Official Website