Belly Dance Classes in Dubai
Posted by Dubidor | March 29, 2017
Belly Dancing is one of the oldest form of expression through dance and has been steadily gaining its popularity throughout the world again…. This has led many dance studios and gyms in the UAE to start offering belly dance classes.
Some of the belly dance classes in Dubai are listed below for your convenience, along with information like location, timing and price.
Motion Ladies Fitness
This ladies only fitness center is located in Umm Suqeim 3 and has raving reviews on Facebook. It is highly recommended by it patrons.
They offer, group and one on one classes.
For the latest prices and schedule visit the official website below,
Price: N/A
Location: Umm Suqeim 3
Official Website
Melodica
Melodica music and dance institute is one of the most elite places in dubai to learn belly dancing. With over 3500 sqft of space, there is ample room to learn various dance styles.
Founded by pop singer Afshin, Melodica is a culmination of his love for music and dance. The dance instructors are from all around the world and the belly dance teacher is from Moscow, Russia.
Classes are conducted in groups for adults and each session lasts up to 60 mins. They also offer a free session, just to get you comfortable, so go ahead and book one today.
Price: N/A
Locations: Palm Jumeirah & Jumeirah lake towers
Official Website
GFX
GFX which stands for Group Fitness Experience, immerses you into the world of fitness, by offering you some of the best, fun and innovative dance styles in the region. Belly dance classes in Dubai are also offered as a part of their fitness routines.
They currently have two locations, one in business bay and the other at Mirdif.
Price: AED 85  (per class)
Location: Executive Towers, Business Bay and Mirdif.
Official Website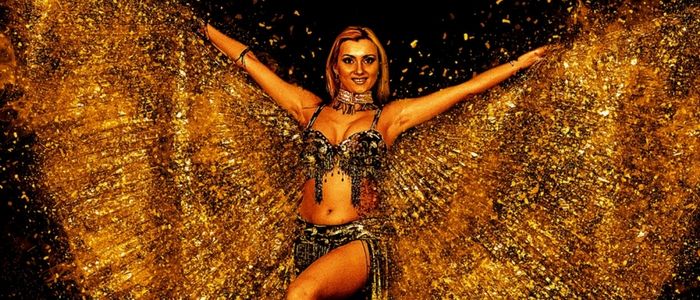 Tempo Dance Center

Tempo dance center is located in JLT Dubai and also offers belly dance classes. It is a franchised venue that caters to beginners, intermediate and advanced dancers.
With a warm, fun loving vibe, this place feels comfortable and inviting. They offer beginners group classes every Sunday and Tuesday.
Prices: N/A
Location: Jumeirah Lake Towers ( JLT)
Official Website
Belly Art
Belly Art first opened its doors in the year 2008 in Argentina. After becoming successful they have opened a branch here in Dubai to serve the growing community of passionate dancers in the region.
But apart from teaching you how to belly dance, they also consider the historical relevance and cultural traditions of this oriental dance form.
They conduct classes in the Dubai community theatre and arts center located next to mall of the emirates.
Prices: N/A
Location:
Official Website
Mantra Fitness Club
The next venue on our list that offers belly dancing is located in business bay, and apart from a bright, energetic environment they also offer dance classes covering a large spectrum of dance styles.
 Price: AED 75 per class
 Location: Business Bay

Official Website
Fitness First
As a well-known gym and fitness lifestyle promoter, Fitness First also provides belly dance classes. You can work on your core while having a great time.
They also offer a free first class and offer mixed and exclusive ladies only classes.  So there's nothing left to think about. Just head on over and give it a shot.
For a complete, updated list of venues and timings visit the below link:
Official Website
IDC
 The International Dance Company features dance instructors from various parts of the world, teaching you various dance styles, including belly dancing in a fun, social and friendly environment.
Prices start from AED 90 per session for the group classes and you must complete your booking 24 hours in advance.
Price: AED 90 per class
Location: Mazaya Business Avenue, JLT
Official Website
There are many belly dance classes in Dubai to choose from, if you've decided to try out this dance style and are confused over who to choose, simply ask for a free session as it has become a standard practice is most venues.